Estimated reading time: 30 minutes
What is WordPress? A Summary of the World's Most Widely Used CMS
WordPress is the world's leading content management system, accounting for 65.2% of all business websites with a known CMS. This equates to 42.4% of all types of websites on the internet being powered by WordPress. WordPress is ideal for people looking to create a website or blog post. Due to its flexibility and scalability, It's easy for beginners yet powerful enough for experienced web developers. Allowing virtually anyone to customize their online presence in any way imaginable. That's why SiteWired Web Design created this helpful guide for our readers.
What is a CMS? Content Management Systems
Content management systems (CMS) are a great tool to help small business owners save time, stay organized and market their services. CMS platforms like WordPress make it easy to create, edit and organize your website content and blogging platform, allowing you to focus on running your business.
If you want help choosing a theme, check out this article on "How to Choose a WordPress Theme".
Today's WordPress content management system technology makes it simpler than ever for any small business owner who wants to update their website regularly. With a CMS, you don't need advanced web development knowledge or coding experience to build your WordPress website since setting up and managing your website is already made simple for beginners. Plus, some content management systems come with thousands of available plugins so you can customize and optimize the look and feel of your website quickly. For more information on plugins, check out our beginners guide to WordPress plugins. Furthermore, using a content management system such as WordPress to manage your layout and design helps rank higher in search engine rankings so that more potential customers find your business online.
If you are already using wordpress and are unhappy with your current hosting provider, you should check out this article on how to switch wordpress web hosting providers.
Are you already familiar with WordPress? Ready to start building? Check out our guide on Building a WordPress Website: A Beginners Guide
Who Created WordPress?
WordPress has been around for more than 17 years now, making it one of the longest-running popular web publishing platforms. It was created in 2003 by a collaboration between Matt Mullenweg and Mike Little. Many attribute the success and longevity of WordPress to the power of its open-source structure, enabling skilled developers around the world to contribute to its ecosystem with WordPress themes, plugins, and other tools. With no single company or individual calling the shots, progress is enabled through a collaborative effort from a global team.
Looking for an alternative to WordPress? Check out the great guide on Best WordPress Alternatives For Your Website.
The WordPress project itself was originally an offshoot of a platform called b2/cafelog created by Michel Valdrighi in 2001. Over the years, WordPress has become more than just a blogging tool under Mullenweg's direction. Thanks to continuous development and expansion into e-commerce features and integrating support for mobile devices, it truly is a powerful content management system capable of powering all kinds of websites from small blogs to large enterprise organizations.
What Companies Use WordPress?
WordPress is an incredibly versatile platform for creating any website. It's a favorite among individuals, businesses, and organizations alike as it offers a vast array of customizable designs and features, allowing users to create aesthetically pleasing and functional sites that can be easily maintained. From personal blogs to professional portfolios, WordPress can fill most needs.
Big names such as Microsoft, BBC America, Facebook Newsroom, MTV News UK, Variety Magazine, and Quartz Media Company LLC all use WordPress to power their websites; this speaks volumes about its robust ability to offer so much in terms of content creation and hosting, as well as its all-too-essential support system should any issues arise. Its simple automation features also make it easier than ever for non-technical folks who want to set up a highly functioning website while avoiding running into any coding details. And let's not forget the vast library of themes and plugins like WP Rocket for website speed and caching, which are available for customizing a site's look, feel, and settings without any previous experience with web development or design! Whether you're just starting out or an experienced user looking for something more powerful, WordPress has something for everyone.
From personal blogs to professional portfolios, WordPress can fill most needs.
How Does WordPress Work?
WordPress provides two basic versions of its service: a hosted version accessible from WordPress.com and a downloadable version from WordPress.org. The hosted version is ideal for non-technical users – as WordPress takes care of the hosting plans and automatically updates the software to the latest version, which helps protect against security breaches. On the other hand, for more advanced users who want to host their own website, it's possible to download WordPress from WordPress.org and make arrangements with a private server or third-party hosting plan provider.
When using the hosted version of WordPress, users are provided access to various popular tools used in website design and development, such as templates and themes that can be modified according to needs.
They have an integrated shopping cart system with payment gateway support integrated within its platform. You don't have to worry about setting up any separate e-commerce systems on your online store – all these features come together right on the site itself! For anyone needing additional functionality, there's plenty of add-ons available, such as plugins for social media integration and SEO optimizations that can easily be installed with just one click.
Why Should I use WordPress?
Below are some of the benefits of using WordPress.
It's free – To use the WordPress platform, users will require secure web hosting and a domain name, both available for purchase. The platform itself is free to download and use.
It's highly flexible and customizable – WordPress has numerous uses, from creating a blog or online portfolio to starting an eCommerce shop. It benefits from a strong open-source community, with many themes and plugins available from the official WordPress library and third-party sources.
It's a scalable platform – The amount of resources needed for hosting a WordPress site depends on the size of the website being created. For example, larger sites may require more server processing power and higher amounts of storage space. Most reputable hosting providers have adequate resources available to maintain WordPress sites of any size. Switching to another platform is unnecessary when the website becomes successful.
It's relatively easy to use – WordPress requires less skill than hard-coding a website. It is possible to create a visually pleasing and effective website with a graphical user interface, although coding can also be employed.
The primary reasons to use WordPress is its exceptional user-friendliness. WordPress makes it easy for anyone to create a website without any coding knowledge or experience. Plus, there's an abundance of helpful tutorials, training courses and instructional videos available online if you do need more assistance. With WordPress, you don't have to be a technical genius just to get started in web design.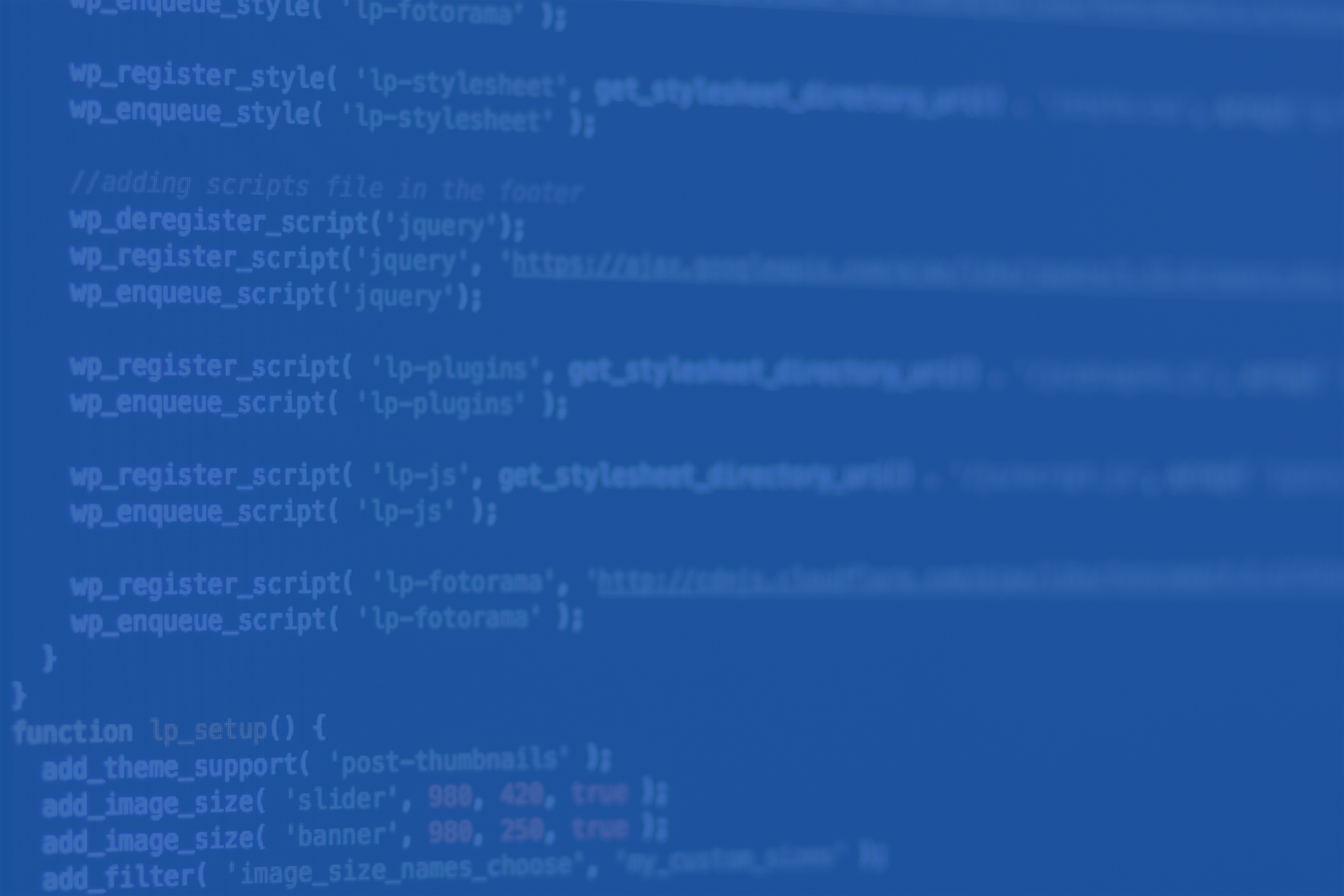 Denver Web Agency
Our company is located in Denver, Colorado. We specialize in WordPress Web Design to help your business grow. If you are looking to create or redesign your WordPress company website, contact us for a free quote at 303.424.2522
WordPress also offers a vast library of themes and plugins that can truly customize the look of your website and add amazing functionality. There are thousands of free themes or you can choose from premium designer options – all with just a few clicks. And with over 55,000 plugin options available, you can add anything from forums and contact forms to e-commerce capabilities and SEO optimization tools. In other words, whatever type of website you want to create, WordPress will make it happen quickly and easily.
WordPress is Free
One of the major benefits of using WordPress as your website platform is its free and open source software. This allows for infinite customization to create the exact look, feel, and functionality you desire with no limitations. Not only is downloading the WordPress software itself totally free, but there are also literally thousands of additional plugins and themes available to further customize your site that won't cost you anything extra. When comparing this to more traditional web technologies like SquareSpace or Joomla, it becomes very clear which offers better value.
Many community developers take full advantage of WordPress being open source. This means people can modify custom themes and plugins without having to worry about copyright laws or licensing fees. Similarly, anybody is able to contribute back into the larger WordPress community by submitting bug fixes, writing tutorials, creating custom plugins and so on! By embracing the open source nature of WordPress anyone can become part of an active vibrant online community dedicated towards tearing down technological walls in pursuit of a better digital experience for all!
WordPress Is Extendable
Thanks to WordPress' extensibility, non-developers can easily modify and improve the look and functionality of their website. With the vast selection of available themes and plugins, the possibilities are endless – there's something for everyone. For example, if a user wants to transform the appearance of their site, they can browse through a multitude of free themes or even purchase a premium theme that meets their specific needs.
East to Install
Creating your own website doesn't have to be a daunting task anymore. With WordPress, the most popular web platform available on the internet today, installation is easy and user-friendly. With a few clicks, you can get up and running in no time. Third-party web hosting providers now offer simple ways to install WordPress with minimal fuss. Many web hosts come with one click WordPress installation, so you can get started right away, as it takes only a matter of minutes. On top of that, some web hosting providers provide dedicated tools such as pre-installed themes making the setup process hassle-free and beginner-friendly.
The entire installation process should take no longer than 15 minutes depending on the speed of your internet connection and whether there are any additional steps needed beforehand. Once your site is set up, you can start customizing it for your business or personal needs quickly and easily! Furthermore, by choosing SiteWired as your web host, you can ensure that your website will remain secure from malicious attacks thanks to our built-in security protocols – something essential for any website owner. So don't wait — dive into the world of WordPress today for an efficient, hassle free website building experience.
Is it easy to redesign a WordPress website?
No, it is not always easy to redesign a WordPress website. Redesigning a WordPress website can involve various tasks such as changing the theme, modifying the layout, updating content, and making sure all plugins and functionalities are compatible with the new design. Depending on the complexity of the redesign and the level of customization required, it can be a time-consuming and technically challenging process. Additionally, if the website has a lot of content or a large number of pages, it can take even more time and effort to complete the redesign. It is recommended to have a clear plan and possibly seek professional assistance to ensure a smooth and successful redesign process.
Can I Run WordPress on a Local Computer?
Installing WordPress on a personal computer is a great way to experiment and explore all of the features of WordPress without fear of breaking anything or making any mistakes. With DevKinsta, users can easily create a local WordPress installation with all the necessary plugins and themes needed for their project. This makes it easy to start from scratch and customize as needed without having to worry about damaging their live site.
Allowing developers and website owners, the opportunity to test locally first helps ensure all adjustments have been tested correctly before it goes live, giving peace of mind that the project will work as expected. In particular, advanced coding projects, such as custom plugin development or highly customized themes require testing several different types of scenarios that could break a live site if done incorrectly. Setting up an environment locally gives you the power to quickly test different scenarios while eliminating any risk of breaking your live page.
Is WordPress Easy to Customize?
WordPress is an incredibly versatile and flexible platform for web development. With its vast array of plugins and widgets, WordPress lets you create stunning websites with almost any desired level of complexity. Customizing your website's design and layout is simple due to the powerful content editor which allows for quick styling changes with a few clicks.
On top of all this versatility, WordPress makes it easy for sites to evolve and grow alongside their owners. Setting up a forum, adding a social network, or incorporating any other type of feature can be easily achieved by installing one of the many available plugins. There are options available that can make even mundane tasks such as managing advertisements on your pages simple and hassle-free. WordPress is great at letting you find creative new ways to display content or engage your audience without having to start from scratch each time.
Is WordPress SEO Friendly?
When it comes to search engine optimization (SEO), WordPress offers many advantages for website owners. It's importance cannot be understated, since without the ability for people to find your website, there will be no audience. To make sure that people can discover your website, it needs to stand out among other websites in the chaotic world of search results.
WordPress is highly SEO-friendly, thanks to several plugins and features that allow users to customize and enhance their websites with keywords and meta tags. Popular plugins like Yoast SEO offer dedicated users a plethora of suggestions on how to optimize their pages for various search queries and increase visibility across different platforms.
Other handy features such as internal linking makes it easy for users to draw attention to specific posts and pages. With these plugins and features, users can get a better handle on the optimization process and watch their rankings improve over time. Ultimately, these tools can help your WordPress website become more visible in an increasingly competitive online landscape.
WordPress Supports All Types Of Media Uploads
WordPress is an incredibly versatile platform when it comes to media. It supports all media types, whether it's text, video, images, audio or a combination of all three. This means that you have the freedom to be creative and make your website look amazing without any restrictions.
This is particularly advantageous when it comes to the highly competitive online market for customer attention. Interesting content coupled with well-presented visuals can make a world of difference in getting people interested in what you have to offer and really sets WordPress apart from other content management systems.
WordPress allows businesses to create beautiful and engaging products that drive customer engagement, inspire creativity and further expand their reach. Whether your niche involves creating textual content, photographic galleries or an interactive audio-visual experience, WordPress offers features and tools that help bring your vision to life.
WordPress Security
When talking about website security, WordPress is often the go-to solution for businesses. It's one of the most popular full-fledged content management systems out there and for good reason. From its easy-to-use interface to its robust security features, it makes keeping your site secure a breeze.
The first step towards making sure your WordPress site is secure is making sure all security plugins are up-to-date. This can be done quickly and easily through the update interface. Keeping everything updated ensures that any pre-existing vulnerabilities are closed off from potential malicious actors. Additionally, having strong passwords to protect against hackers is also an important factor in WordPress security. Having two-factor authentication enabled adds an extra layer of security by verifying user identity before they gain access to sensitive information on your website. As long as you take a few precautions, you can rest assured that your website and data will be safe with WordPress!
What Can You Use WordPress For?
WordPress is a versatile software that has become increasingly popular for creating websites. Initially, it was primarily used by bloggers who wanted to have an online presence to share their thoughts and experiences with the world. Nowadays, however, it's much more than just a platform for blogging. WordPress has made tremendous progress and can now be used to create any type of website imaginable. Whether you want to share content about your latest hobbies or create an online shop selling goods, WordPress gives you all the freedom you need to make it happen.
It has capabilities beyond what even experienced web developers had access to in the past. This means that anyone with basic computer knowledge can use WordPress without any difficulties and create a website tailor-made for their needs. With its current features, WordPress offers entrepreneurs, freelancers, small businesses and hobbyists alike options they could only dream of before. For example, e-commerce websites are particularly suited because there are many plugins available which enable users to easily set up on-site payment gateways and customer accounts. WordPress also allows coders access to the backend so they can tinker around with intricate features like custom theme editing and detailed coding options out of the box – no prior experience necessary!
Recipe and Lifestyle Blogs
Recipe and lifestyle blogs are incredibly popular online due to their ability to showcase what one loves doing and how they live day to day. WordPress is the perfect platform for this type of blog because of its robust features.
For starters, WordPress allows you to easily differentiate between posts and pages on your website, so you can craft the perfect content structure for sharing your hobbies. Additionally, it comes with a WYSIWYG editor (What You See Is What You Get) which makes creating posts simple and straightforward. No technical knowledge required! It also has options like posts, tags, and categories that combine to create an easy way to arrange content in any way you choose. Plus, viewers will have the ability to leave comments and you'll be able to moderate them quickly and easily with WordPress tools. Finally, there are countless themes available—each designed around different aspects of blogging—which will give you plenty of options when designing your own lifestyle blog.
Portfolio Websites
Creating a professional portfolio is an important part of any professional career. The ability to showcase your work and highlight the skills you have that set you apart from the crowd can be invaluable when trying to land a job or secure a project. WordPress is a great choice for developing professional portfolios as it offers many customizable themes that allow for tailoring with respect to personal brand.
It's easy to create separate "Pages" such as an About page or Contact page, while "Posts" can be used specifically to feature particular pieces such as images, text, audio, or video files. Furthermore, plugins and other tools are available to help add functionality such as portfolio carousels or sliders that make it easier for the user to view specific items of interest. Ultimately, when crafting a professional portfolio using WordPress, one can easily tailor their own content editor using both provided features as well as additional plug-ins.
WordPress Small Business Websites
WordPress has become an incredibly powerful platform for creating business websites; its built-in content management system capabilities and third-party integrations allow you to create a comprehensive, professional yet custom website. Best of all, with WordPress you're able to design a website that is uniquely tailored to fit the needs of your business.
When designing your site, it's important to find a website theme that works best for you and suits the content and purpose of the website. Once your theme is chosen, many WordPress page builders such as Elementor or Divi allow for simple layouts that are completely customizable to match your business' aesthetic.
There are plugins available such as SEO, lead capture, and analytics that can help grow your business visibility in the digital content sphere. Moreover, the open-source community continually creates new solutions letting you get the most out of WordPress when building your business website. All together this makes WordPress an incredibly successful platform for creating great websites for businesses large or small alike.
E-Commerce Websites
WordPress is an incredibly popular content management system that's ideal for creating e-commerce stores. Thanks to its wide range of plugins, themes, and integrations, setting up a WordPress store can often be done in a matter of minutes. When you combine this user-friendly infrastructure with the myriad e-commerce plugins available – perhaps the most famous being WooCommerce – you've got everything you need to start selling products directly through your website.
WooCommerce is one of the most popular e-commerce solutions around, offering a range of features which make it a great choice for small business owners and entrepreneurs alike. You can manage payments, shipping, product inventory and pricing from within the back-end admin area without having to touch any code – leaving your customer with an enjoyable shopping experience on the front end. In addition to payment gateways such as PayPal and Stripe, there are also options for accepting cash on delivery and customer loyalty programs too – giving you complete control over how customers purchase your products while still providing them with added convenience.
Mobile Apps
Mobile applications have become an essential way for businesses to build relationships with customers. They are a convenient, user-friendly way to access websites and the features they offer. With mobile applications, users do not need to open their device's browser each time they want to use a service, but can instead go directly via the app.
Businesses of all sizes are recognizing the potential benefits of offering a mobile application to their customers. However, developing a mobile app can be costly and time consuming. Fortunately, there exist WordPress plugins that allow businesses to quickly create their own app.
These tools do not require any coding experience or specialized programming skills, making it relatively easy for anyone to turn their website into an app. Using these plugins, businesses can give customers a better user experience by providing hassle-free access to features on the go through mobile applications.
Websites With Membership Options
Membership sites are an effective way to monetize your online efforts. With WordPress and the right plugins, it's easy to create and manage a secure membership site. You can accept payments, control what content paying members get access to, set up different levels of membership, and monitor signups.
To make sure you've got the best possible experience with your new membership website, you should looked into the ultimate guide to WordPress. This comprehensive guide will give you the scoop on how to set up your site quickly and easily so that you don't waste time piecing all of the aspects together yourself. It covers topics like web hosting packages, themes, plugins, security and performance, as well as search engine optimization – leaving nothing out when it comes to making sure your WordPress website is top notch!
What is the Difference Between WordPress.org and WordPress.com
WordPress.org
To run a self-managed WordPress website, users first have to register their domain name and choose a web host. The type and quality of the web host are important factors, as they can impact the performance and speed of the website. WordPress.org houses the free, open-source content management system.
By self-hosting their website instead of using the free hosted version available at WordPress.com, users can access a higher level of control over their server space while taking advantage of all the features offered by WordPress. All themes and plugins are ready to be installed with a single click – this includes any custom designs made by users themselves. If you're looking for maximum control and want full access to your website's potential, consider self-hosting through WordPress.org!
WordPress.com
WordPress.com is a popular hosting company that offers website building services based on the WordPress platform. Designed for small businesses and individuals, it makes it easy to create a professional-looking website without any coding skills. All users need to do once they sign up is choose the type of website they want, add content and configure settings.
The free version of WordPress.com requires users to use a branded domain name like yourwebsitename.wordpress.com and also has other limitations such as not being able to install themes or premium plugins. For those wanting to use a custom domain name, they must upgrade to one of the paid plans offered by WordPress.com which come with more features and support than its free version. With extensive customization options available and support for multiple languages, design aspects can be tailored perfectly according to user needs while relying on WordPress's reliable hosting service provides peace of mind in knowing websites will be stable and secure at all times.
Customizations
WordPress is a comprehensive platform that has been designed to be incredibly customizable. Its application programming interface (API) covers all aspects of its database, allowing developers to continually add to and build upon the existing software. Whether they're making changes to the theme or developing entirely new features and functions, WordPress provides users with a range of customization options that are built into the core package.
By keeping everything standardized across multiple installations, WordPress offers developers a unique level of consistency when making their changes. They can rest easy knowing that any functionality they develop will work on all versions of the software once it is kept up-to-date. This decreases the time taken for debugging and makes it easier for developers to maintain support for their own projects over multiple installations. Additionally, by using a well established platform like WordPress, support for coding standards and best practices are also maintained through official documentation and sources available online.
Themes
WordPress themes provide an easy and convenient way to customize the look and feel of a website. They allow users to tailor the aesthetics of their personal blog software to fit their preferences, while also providing ready-made templates that have been designed by skilled coding professionals. Themes are a great way of customizing WordPress websites without having to make changes to core code or content.
Each WordPress site requires at least one theme in order to function properly, so it is important to choose the right one; there are two main types – free and paid or "premium" themes. Thousands of themes are available in the official WordPress Theme Directory with many options for customization, whereas premium themes often require payment for access and some even come with built-in features such as advanced headers and backgrounds. Regardless of which type is chosen, adding additional code can be easily achieved through the use of child themes when more customization is required.
Accessibilty
The WordPress Accessibility Team is a dedicated group of professionals passionate about increasing the usability and inclusivity of the popular content management system (CMS). By ensuring that core WordPress and any identifying accessible themes are compliant with international web accessibility standards, the team contributes to greater digital equity. In addition to optimizing content for accessibility, they also strive to increase public education surrounding web technologies and create a safe space for discussion regarding digital experiences.
The WordPress Accessibility Coding Standards communicate the commitment of this team to design best practices. As per their recent document, all new code released within WordPress has to conform to Web Content Accessibility Guidelines 2.0, in an attempt at achieving level AA compliance level. This technical mandate ensures that any future projects or updates won't negatively impact the existing experiences for disabled users, further shifting power dynamics and providing them with knowledge platforms of equal opportunity.
Save Time When Updating Your Website
Maintaining a fresh website is essential for any business regardless of size or industry. A stale website can easily give the impression that your business is no longer operational and customers may look elsewhere to meet their needs. The good news is there are plenty of ways to keep your site updated without having to rely on a web designer.
One of the most effective solutions for keeping your site updated is by investing in content management software (CMS). This type of software allows you to quickly add, delete, and update features such as news posts, events, promotions and more on your website. Another great option is using WordPress.com which gives you access to some amazing tools that make it super simple to share content with customers like integration with existing photo libraries. Whether you choose a content management system or even a third-party platform like WordPress.com, keeping your website fresh can help boost customer confidence in your business and ultimately grow its success over time.
Features and Plugins
WordPress includes a range of features that make publishing and search engine optimization an enjoyable experience. From link management to multiple category assignment, analytics tools and tagging, WordPress makes sure all the necessary tools for efficient content posting are readily available. The standardization and formatting of custom post types is done automatically in order to give users a better clarity on the how their published text will appear as– plus it helps with keeping HTML code free from clutter.
WordPress is also known for its compatibility with various web standards, such as Trackback and Pingback. These links serve as references between posts across different websites, creating links that give more accessibility to topics discussed in related articles on other sites. WordPress also offers customizable editing options through some popular plugins which allow users greater control over the design, appearance, and working capabilities of their published material. This ensures that posts are more optimally viewed across any platform they may be found on.
Administrator Dashboard and Settings
The WordPress admin dashboard is a powerful tool that allows website administrators or authorized contributors to view, edit and manage the website's content. The admin area contains options that make it possible to modify WordPress and keep it maintained to stay updated. It also contains other optional settings such as the theme customizer, widgets, SEO plugins, etc.
Accessing the dashboard is easy; type in the domain name (yourdomain.com) followed with 'wp-admin' and log in with the username and password set during installation. To configure WordPress settings further, users can access the settings menu from their dashboard page which is located on the left navigation panel next to Dashboard and Updates. There are many options accessible from this menu like General Settings, Writing Settings, Reading Settings, Media Settings and more. With this feature, administrators can control important aspects of their site or post blogs securely.
What is a Headless WordPress Website?
Headless WordPress is a way to create and manage a website that leverages the powerful content management features of WordPress, while utilizing other technologies on the front end to power the design and user digital experience. By taking this headless approach to web development, sites are able to take advantage of all of WordPress' strengths without being limited by its traditional template system and themes. With a headless WordPress setup, developers have more control over their projects from architecture to implementation.
Choosing a headless approach for WordPress means professional developers can take advantage of other technologies like JavaScript frameworks such as Angular or React for building the client-side portion of an app or site which is then powered by the convenient content management system provided by WordPress. By using headless WordPress, teams will have more control over the entire process from design to implementation – allowing them to tailor their completed project directly towards their users' needs. Headless WordPress also provides caching abilities until changes made in your content management system are pushed out across all your web properties, making sure your users get the same content regardless on which device they choose to access it on. Headless WordPress sites are less reliant on theme updates and code modifications – giving developers more freedom when thinking about how they want their websites to look and feel.
Overall, WordPress is one of the most popular content management systems out there and is a great choice for those wanting to create their own website. Whether you're looking for full control of your project or want to use the convenience of WordPress.com, WordPress has something to offer everyone. For developers wanting more control over their projects and who require caching abilities across all web properties.
Speed Matters
With the advancement in web technologies and improved internet speeds, web designers have been able to create visually stunning websites with rich content. However, such advancements can be a double-edged sword because they often come at the expense of loading times – meaning longer loading times for users. As website owners, this is an important factor that we must consider because long load times damage the overall user experience and result in fewer conversions. Therefore, it's essential that we prioritize our site speed so that visitors don't leave our page prematurely due to impatience or frustration.
Fortunately, understanding what factors contribute to slower page loads and making the necessary improvements isn't as difficult as it may seem. To get acquainted with the various shocking factors that may be decreasing your site's speed, you can get our eBook which contains practical solutions on upgrading WordPress sites and improving their performance in both mobile and desktop environments. By implementing some of these techniques, you can cut down your loading time significantly, creating a better user experience for all your visitors.
If You Have the Vision, You Can Design It
Dream it, build it – this is the philosophy of many creative minds who are looking to craft something unique and meaningful with their own two hands. For web designers, this phrase has a special meaning as they utilize cutting-edge tools to create professional sites from individualized visions. With intuitive editing software and powerful features, designers can make websites that fit any need or preference.
The WordPress Editor offers users complete control over their designs through customizable design tools that let them craft stunning sites in no time at all. Its real-time previewing system gives users an opportunity to see precisely how their site will look after updates have been made, so changes can always be seen in advance. Furthermore, users of the Editor can add, edit and rearrange content easily and quickly to ensure everything looks just as they imagined. Dream it, build it truly expresses the simple yet effective process of utilizing modern technological advancements to make beautiful websites with ease.
WordPress Developers Community
With its creed of open collaboration and freedom, the community at its core is determined to bring better digital experiences and opportunities to people around the world. It is driven by those who are passionate about technology and have a desire to help others prosper through its advancements. Individuals, teams and businesses come together without borders or restrictions on their skills or experience. Everyone can contribute in some way and are welcomed with enthusiasm regardless of their tenure in the ecosystem.
Development cycles are enriched with contributions from all directions be it code, design, testing or simply feedback — anything that helps sets the scope for improving the software created today for a more futuristic tomorrow. Meaningful engagement shares perspectives from around the globe which promotes diversity and empathy in our current day society. Joined forces allow us to create services that otherwise would not be possible — allowing us to push boundaries further beyond just collaborating online together we can take our projects offline through conferences, meet-ups and other local events enabling even more collaborations between users from different nations.
How Much Does WordPress Cost?
When it comes to "how much does it cost to build a wordpress website?", there are several variables to consider before deciding on which platform is right for you. If you're considering subscribing to a content management system software platform, then expect to pay anywhere from a few dollars per month up to hundreds of dollars a year depending on the features they offer. Many companies use this type of program in order to facilitate their online presence and keep organized documents and data.
If budget is an issue, then one option that is always worth considering would be WordPress CMS Software. Open source software is free, but you will need to buy hosting and a domain name in order to utilize it. A web host comapny is where your website resides, the domain name is the address for your site; such as www.somewebsite.com.com for example. Although there may be additional costs associated with configuring and customizing your site with WordPress – these initial costs should be kept at an absolute minimum compared with other subscription based platforms.
WordPress Today
WordPress released an update in 207 that redeveloped its user experience with a revolutionary new editor called Gutenberg. This significantly improved the development process by allowing users to create more visually stimulating pages with drag-and-drop ease. Alongside Gutenberg came the latest version of WordPress, 5.0 (Bebo), which included a new showcase theme that allowed website owners to highlight their best content on their homepage. The impressive capabilities of this version solidified the recognition of WordPress in many industries as an essential tool for creating dynamic websites that capture visitors' attention. With continuous updates providing new features and services, it's clear that WordPress stands at the vanguard of modern web development tools.
WordPress Resources to Help You
WP Engine provides agencies, enterprises and small businesses a secure platform to build their websites on. This company makes sure that the speed of loading pages is optimal in order to ensure good SEO performance for websites and also ensures complete security for customers' data with services like automatic updates, daily backups, content delivery network integration, strong server-level caching and an ever-expanding range of available tools. The powerful dashboard includes analytics to help track up time and check performance. Furthermore, it has been named Ina top performer by G2Crowd three years in a row as well as five out of five stars by Capterra users. With all these features included, you can be sure you'll get the best when building your website with WP Engine.
Takeaways
WordPress is a widely used open source content management system (CMS) platform that allows users to easily create and manage various types of websites. It is used by millions of individuals and businesses, both big and small, making it one of the most popular CMS solutions available.
WordPress is known for its highly customizable nature, with a wide selection of themes, plugins, and widgets available for customization. It also boasts an impressive community of developers who are constantly working to improve the platform's security and optimize its performance. While these efforts have resulted in an extremely secure platform, WordPress remains one of the most frequent targets of hackers due to its large user base.
In order to protect their WordPress sites from intrusion or potential damage, users should always ensure their WordPress software is kept up-to-date. Regularly updating the software ensures it has all the latest security patches and helps minimize vulnerability risk. Additionally, other best practices such as using strong passwords and two-factor authentication can help further safeguard user data on WordPress websites.
What Are You Waiting For? Join The WordPress Community!
It's never been easier to get started and create online. Whether it's your first website or your ninety-first, the process has been simplified so you can hit the ground running. The very first thing you need is a platform to build upon – something like WordPress or Squarespace. Many platforms offer free hosting and include templates, making it easy to give your site just the right look with minimal effort. Downloading the software is usually a matter of following a few simple steps, and for more advanced users who might prefer coding from scratch, many open source platforms are available for customization.
Once you have your platform ready, the next step is finding hosting. Again, some platforms offer their own hosting services so you don't have to spend time searching for the best deal on your own. If that's not an option, then do a bit of research into what type of hosting makes most sense for you—are other extras like domain registration important? Do you need a one-time payment option? Find answers to these questions in the developer community and make sure your host gives excellent customer service—it will be invaluable if problems arise at any point during the setup process or beyond.