Choosing the Best WordPress Themes
How you should choose a suitable WordPress theme for your website can be a difficult task. With thousands of options available, figuring out where to start can take time. Fortunately, you should consider some key factors when selecting a theme that will help ensure it meets all your needs.
First and foremost, you'll want to ensure the theme is compatible with the latest version of WordPress. This will ensure your site remains secure and up-to-date with the latest features and functionality. Additionally, you'll want to look for mobile-friendly and responsive themes, so they look great on any device or screen size. You should also consider how easy it is to customize the theme to create a unique look for your website without having to write code from scratch. Finally, ensure the theme has good support from its developer if you run into any issues or have questions about how something works. Once you've found a few themes that meet these criteria, take some time to explore each one in more detail before making your final decision.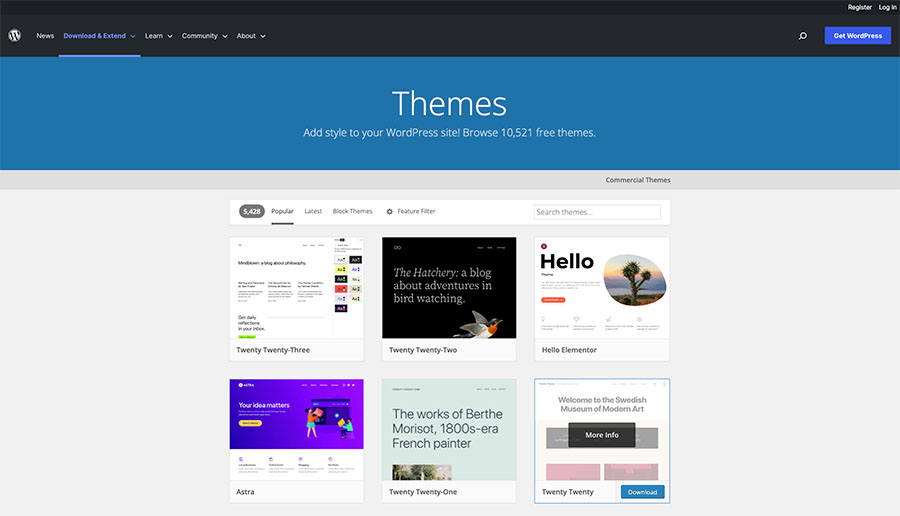 What is a WordPress Theme?
Themes are necessary for any website built on WordPress. They supply code that decides the site's design elements and structure, such as fonts, colors, and layout of menus and headers/footers. Once a theme is in place, there is no need to manually check that titles have the same styling or that header color ties in with buttons – settings will sort this automatically.
But themes are more than just visuals; they also add extra functionality to the backend of the WordPress content management system. Many include custom blocks extending the default WordPress Editor, allowing users to easily create more complex layouts. Additionally, some build in additional types of content beyond Pages and Posts, such as portfolios or galleries. With these features, users can easily customize their websites to meet their specific needs without writing any code themselves.
The Importance of Choosing the Correct WordPress Theme
Choosing the correct WordPress theme is extremely important if you want to design a beautiful, functional, optimized website for performance. With so many on the market today, deciding which is right for your business can take time and effort. The wrong choice could lead to a website that needs to be correctly optimized for loading times or with options that don't work as intended and eventually require hiring a developer in order to change themes. On top of customizing the look of your site, many themes come equipped with features such as widgets, WordPress plugins, and shortcodes, all of which have the potential to be limiting should you need to move away from the theme at any point in time.
In addition, to design and coding considerations, you also want to pay attention to website performance issues. Some great-looking templates can consume more bandwidth, slowing down your website and causing pages to take longer than necessary to load, which harms the user experience. Look for lightweight themes with optimized HTML/CSS code structures to ensure optimal loading times. Doing so helps avoid page bloat while keeping page load speeds reasonably low. So no matter what sort of website you're trying to build – choosing a suitable theme is a crucial step in designing a successful website on WordPress.
WordPress Theme Options
When customizing your WordPress website's look, several options are available. Most WordPress themes have setup options allowing you to customize the design, layout, and features without writing code from scratch. These options are in your dashboard's "Theme Options" section. You can choose from various settings, like fonts, colors, and layout options. In addition to these pre-set options, some themes allow you to modify the code to further customize the design.
Premium Themes
Premium WordPress themes come with additional features, customization options, and support from the developers. These tend to be more expensive than free ones, but they are often worth the cost if you need advanced functionality or design options. Premium themes usually come with various pre-built page layouts, making it easy to create a unique look for your site without writing code from scratch.
Responsive Themes
Responsive themes are WordPress themes that automatically adjust to different screen sizes and devices. This is important for creating a website that looks great on all devices, from small phones to large monitors. Responsive themes are now the standard for WordPress websites, so ensuring your chosen theme is responsive is crucial. Many modern premium themes offer this feature, but you can also find a few free responsive themes if you search around.
SEO-Friendly Theme
SEO-friendly themes are WordPress themes designed to assist a website in ranking higher in search engine results. SEO- (Search Engine Optimization) friendly themes typically include built-in features such as optimized HTML/CSS code, a clean design that prioritizes content, and the ability to easily add meta tags and titles to each page. Additionally, some premium SEO-friendly themes come with advanced features such as Schema support and optimized page loading times.
Child Theme
Child themes are a great way to customize the appearance and feel of your WordPress site without having to make changes directly to the central theme. These essentially act as a "wrapper" that lets you modify or override the existing code from the parent theme. This is especially useful when you want to make changes to your website but don't want those changes to be overwritten.
Picking the perfect theme is problematic when trying to choose from thousands of themes available for a WordPress website. There are many popular themes and custom themes available; you should always use a niche theme to target your product or services.
Choosing a Color Scheme
In terms of online marketing, the importance of color cannot be understated. Effective use of color can increase brand recognition, among other benefits. It's essential to remember this as you create your website or any other online materials representing your business. If you have a logo, consider basing some of your web design on its color scheme. Even if you generally stick with neutral colors and tones, adding some color here and there can make it more interesting – so don't hesitate to play around with shades!
WordPress makes it easy to alter visual elements, such as colors, on a theme by directly editing the files or making custom CSS changes. However, when making these changes, it pays to be mindful of your message: statistically speaking, lighter-colored sites tend to be preferred by viewers compared with their dark-themed counterparts. Dark websites may reduce readability and negatively affect potential design elements which could have been introduced without the limitations of such a dark theme. In short, try not to go overboard one way or another – strike a balance between simply getting noticed and letting the words do their job too! Layout and color palettes should be used to enhance the customer experience, not detract from it.
Essentials for WordPress
WordPress has many themes that can be challenging to narrow down for your business website. The feature filter makes it simple to find the right one by searching for free ones based on your website's needs. For example, search the repository for translation-ready themes if you want international appeal and translation capabilities. Additionally, WordPress translation plugins offer multilingual support if you wish to have more control over site design.
The feature filter also allows other important functions, such as custom designs or a homepage layout specific to particular types of businesses like online stores or magazines. No matter what kind of website you intend to create, the WordPress feature filter ensures that you have a theme tailored to meet your needs and demands at no cost. So before deciding what theme to use, ensure it contains all the essential features for a successful website that looks just right.
Features Available
When you're looking for a WordPress theme for your business, it's essential to consider all of the available features that could benefit your website. The WordPress feature filter in its Themes Repository makes it easy to look for free themes based on specific criteria, so you don't have to search through hundreds of different options.
Translation-ready themes are designed explicitly with multilingual capabilities built in and can provide integrated support for multiple languages immediately. For example, if you want your website to target an international audience, then using a multilingual plugin or a translation-ready theme could be very helpful. On the other hand, you can use translated plugins like WPML or Polylang in combination with almost any existing theme and translate your sites into many different languages quickly and easily. Whichever option you choose, having the ability for foreign users to understand and engage with your site is always beneficial when trying to reach wider audiences.
Functionality
The functionality of a website is paramount in creating an enjoyable user experience. To ensure its success, it is essential to focus on simplicity and usability. Users should be able to navigate the site quickly and seamlessly; clear menus, uniform design elements, modern icons, and logical structure all contribute to this goal. A more straightforward layout will also make the site easier for new visitors to explore, reducing abandonments due to confusion or frustration.
Avoid the temptation of making your theme overly flashy with too many effects and features. In addition to detracting from its overall function, trendy products may rapidly become outdated and have limitations when viewed on other devices. Instead, put your energy into crafting a polished site that delights visitors and search engines through an intuitive design that immediately makes what they want apparent from the homepage. Functional aesthetics without compromising usability will ensure lasting success for your website regardless of trends or technology changes. Load times are also a factor to consider when choosing a theme; no one wants to wait for a page to load, so make sure your website is up-to-date and optimized. Mobile users should also be considered; make sure your site is optimized for mobile devices and the design looks good on all platforms.
Responsiveness
To ensure optimal user experience, it is recommended that websites be compatible with different devices.
Over half of the web traffic is generated by mobile phones or other handheld devices, leading WordPress to suggest using responsive themes.
The WordPress theme developers highlight that selecting a theme should facilitate the display of content in a single-column layout on smaller screens to optimize readability and search engine optimization.
Themes can be designed to be responsive, providing an optimal user experience with a layout that adapts to the browser window's size.
The responsiveness of a WordPress theme should be tested before activation, as even if it is described as responsive, this does not guarantee the page will always be displayed accurately on all devices.
When using a demo of a theme, the responsive design can be determined by either accessing it on a mobile device or shrinking the browser window size. Demo sites usually allow access to different versions of the same website, such as desktop and mobile views.
Security
Security is an essential factor to consider when selecting a theme. The security weaknesses of themes can be exploited by malicious attackers, leading to data loss and website damage.
WordPress offers several security measures that can help protect your website from these threats, such as secure password generation and automated updates for plugins and themes. Using strong passwords and updating the content regularly is crucial to ensure maximum security.
When selecting a theme, it is vital to consider the source of the theme and how secure it is. Using reputable sources such as WordPress Theme Directory and ThemeForest is recommended for reliable ones with regular updates. There are numerous theme directories to choose from.
Customer Reviews
Having a good reputation is essential when it comes to selecting a suitable theme for your website. Before deciding on the perfect fit, take some time to do an online search and read through any feedback or comments about the design you are considering. Not only will this give you an idea of how well it performs, but if there have been reports of any bugs or problems, it can provide helpful insight into issues that may arise in the future if you choose this particular theme.
Also important is looking at how many installations the theme has, as more users often mean more existing solutions to questions that may come up during its usage. A theme with more people using it also means a higher probability that any issues have been worked out by other developers who may have encountered them. Don't forget to also look for plenty of good reviews – these deep-dive insights can make all the difference when choosing which theme is suitable for you.
Browser Compatibility
Cross-browser compatibility is essential for website designers and theme designers, especially WordPress designers. With Google Chrome dominating the market share at over 60%, according to Statcounter, it's easy to understand why many theme designers may forget to consider other browsers when testing out designs. However, Mozilla Firefox, Safari, and Microsoft Edge users also exist and should be addressed as they have their preferences. It is essential to understand that your visitors will likely prefer different web browsers; thus, these must work well across all modern ones. Many popular themes clarify in their descriptions that cross-browser compatibility has been tested and ensures satisfactory performance for users on any browser of choice. It is up to the web developers and designers to ensure their creations look the same on each potential browser.
Marketplaces
You must upgrade to a plugin-enabled plan to use themes purchased from third-party sites on your WordPress.com site. Fortunately, there are plenty of great options, such as the WooCommerce Theme Library, perfect for anyone interested in creating a digital storefront. The library is run and endorsed by the renowned eCommerce plugin WooCommerce which adds peace of mind when choosing. Therefore, users must consider all these factors before they commit to any specific template or service provider.
Compatible Plugins
In most cases, a properly coded WordPress theme will be compatible with all its available plugins. However, conflicts and errors can occur if an improperly coded theme or one that adds too many plugin-like features is chosen. Additionally, it's important to note that switching themes means losing any additional feature-related functionality provided by plugins. It is best to use a basic WordPress theme and supplement it with plugins for optimal results.
What's the Next Step?
Once your theme is installed, it's time to start building your site so it looks like the demo version. You'll need to create pages and posts, adding content that suits your specific needs and conveys the message you want visitors to see. Feel free to contact the WordPress community or your theme developer for help – they understand what content is necessary on each page, how best to customize it, and which plugins may be required.
The Customizer provides an easy way to set up basic fonts and colors and add blocks, such as navigational menus and widgets on certain pages. It's also an excellent tool when experimenting with different layouts and page elements until you find one that works best. Familiarize yourself with these features so you can tweak your content as desired and get everything just right.