Registering a domain name for the WordPress CMS has become increasingly popular. With the Internet becoming more widespread, owning an online presence for your business website could be essential for survival. That's why we wrote this helpful guide on how much a domain name will cost for WordPress.
Businesses should register their domains and use them as a branding strategy in today's digital world. Your domain name is your online address and identity, helping potential customers to recognize and remember your brand. This, however, comes at a cost.
Domain names have become essential to running a successful website or business. The cost of owning a domain name has increased significantly since its early days, but the good news is that it's still within reach of most businesses. This Cost Guide will discuss how much a domain name will cost you and what factors to consider when deciding which plan to choose.
Domain Name Cost
Buying a WordPress domain name can be confusing, but it doesn't have to be.
You need to use a domain name registrar to get a domain name. The costs for registering a domain name can vary between registrars, and additional fees may be associated with booking a domain name. It's important to research which registrar is best for your needs, as some may offer better services than others.
| Registrar | .com introductory price | .com renewal | Whois Protect? | 24/7 Support? |
| --- | --- | --- | --- | --- |
| Domain.com | $9.99/year | $13.99/year | No | Yes |
| NameCheap.com | $8.88/year | $12.98/year | Yes | Live Chat |
| Bluehost | $11.99/year | $17.99/year | No | Yes |
| HostGator | $12.95/year | $17.99/year | No | YesDreamHost |
| DreamHost | $6.99/ year | $15.99/year | Yes | No |
When selecting a domain registrar provider, several factors must be considered. Top-level domains (TLDs) and country-code top-level domains (ccTLDs) are two popular types of domains. Commonly used TLD extensions include .com, .net, .org, and many more. TLDs are specific to countries or regions, including .uk for the United Kingdom or .ca for Canada. Depending on your needs, look into different registrars specializing in specific domains. Before deciding, you should also consider pricing structures, customer service options, security features, and other services potential registrars offer.
Baseline Pricing
Registering domains with different companies will come with different prices. For example, some introductory prices for NameCheap offer .com for $8.88/year, .org for $11.98/year, .us for $3.88/year, and .me for $3.88/year. GoDaddy offers .com for $0.99/year, .org for $10.17/year, .us for $7.99/year, and .me for $3.49/year; HostGator gives you the same options but at different prices—$12.95/year for .com, $12.95/year for .org, $5.95/year. The average cost per year is between $10 to $20.
Domain Name Registration
Registering a domain name is an essential step in establishing your online presence. It's the first step to creating a website, blog, or online presence. ICANN authorizes many different domain name registrars to register domain names. The most popular ways to register a domain name is with Domain.com and Network Solutions or GoDaddy.
When registering a domain name for free, you must find a hosting provider that offers this promotion. This can be done by searching online for "free domain registration" or "free web hosting." Once you have found the right provider with the hosting plan, you will need to fill out the registration form and provide payment information if required. After registration, you can access your new domain name and build your website or blog.
If you choose to register your domain with Domain.com or Network Solutions/GoDaddy, you can search their websites for available domains and select one that best suits your needs. You will then create an account and provide payment information before completing the registration process. Once completed, you will have full control over your new domain.
What Can Affect the Cost of a Domain Name?
When it comes to the cost of a domain, several factors can affect the price. When selecting a domain name registrar, you should be aware of the cost jump from introductory to renewal fees and any additional expenses. The most common additional expenditures are for auto-renewal and privacy protection. Auto-renewal is when your registrar renews your domain name on a yearly basis without you having to authorize it. At the same time, privacy protection keeps your contact information private and prevents spammers from accessing it.
Another factor that affects the cost of a domain is the type of extension you choose. Some extensions, such as .com or .net, are more expensive than others, such as .info or .org. Some registrars may offer discounts on certain domains or extensions if you purchase multiple domains. Shopping around and comparing prices between different registrars is essential to find the best deal for your needs. Finally, some registrars may charge extra fees for services such as website hosting or email accounts associated with your domain name. Be sure to read through the fine print before making any purchases to know what you're paying for.c example but t
In 2023, the cost of a domain name will depend on various factors. The most crucial factor is the keywords used in the domain name. Domain names with high-demand keywords, such as "CutePuppies.com," will come with a higher price point than those with more specific and non-standard keywords like "CutePuppiesInBrant.
Cost of Auto-Renew
Auto-renew can be an excellent option for those who know they plan to keep their domain long.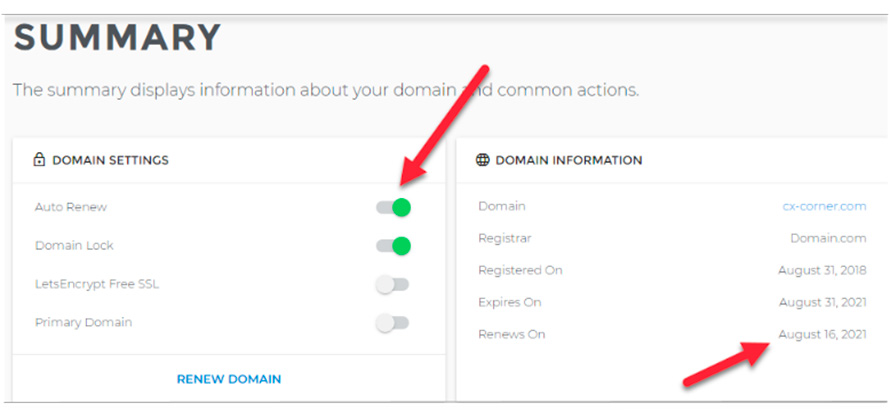 Many registrars activate auto-renew automatically when they sign up a customer, which may be unsettling for some users. Domain.com and GoDaddy feature auto-renewal of domains as part of their registration process, yet many customers are only aware of this service once it is too late. Fortunately, GoDaddy offers a 45-day refund policy for its auto-renews, but you will need their help to cancel your renewal before the expiration date.
It would be best to weigh the pros and cons before deciding whether an auto-renew is right for you. For NameCheap, auto-renewal isn't automatic and requires you to opt in. Once selected, there is no refund for the domain renewal fee. This can be good if you want to commit to multiple years of your domain name, but it's important to remember that you have control.
In this article, we discuss domain name costs.
But that's not all that goes into building a website:
Protection, Security, and Domain Privacy
When registering a domain, there can be costs associated with maintaining one's privacy, such as opting to have your contact information (name, email address, and phone number) listed in the Whois database. This is a public database that stores information on all domain owners online. Although you must submit this data when registering a domain, it doesn't have to be readily available to anyone who wishes to view it. Domain privacy can cost up to $14.95 a year.
When buying a domain, many registrars provide different levels of privacy to ensure your personal data isn't exposed in the Whois database, thus shielding you from spam calls. Some offer complete Whois privacy at no extra cost for the 1st year. Others feature tiered plans, with essential privacy (which still hides most personal information) given complimentary within the first 12 months.
It's challenging to find a reputable registrar offering free Whois protection after the first year; however, this cost is worth it if you want to ensure your personal information is safe from spammers and other malicious actors online.
How to Transfer a Domain Name from a Registrar Provider
Domain Transfers
Transferring a domain name from one registrar to another is relatively simple. The process involves updating the Whois database with the new registrar's information and confirming the transfer with the old and new registrars. Most registrars don't charge an extra fee for the transfer, so that you can switch your domain name without additional cost. It's important to note that transferring a domain does not affect your website builder or hosting provider in any way; these services are separate from your domain registration and will remain unaffected by the transfer.
It should be noted that some domain registrars market their hosting services and website builders as an integrated bundle. However, these services are independent of one another, and transferring your domain will not impact them in any way. All you need to do is give your new registrar all the necessary information, confirm the transfer with both parties, and wait for it to be completed. With just a few steps, you'll be able to switch your domain name without hassle!
Where to Purchase Domain Names
Securing a domain name for the WordPress CMS is one of the first actions to take for establishing a website. There are many domain registrars, but only a few are worth considering. Domain.com offers a wide range of TLDs and ccTLDs, while HostGator allows you to purchase both domain registration and hosting services together as a bundle. GoDaddy is one of the most well-known domain registrars and also provides hosting services. Furthermore, you can purchase a premium domain name through a website builder. Website builders are user-friendly platforms that enable novices to design effective websites without coding knowledge. It's simple to establish your website with just a few mouse clicks.
Regardless of which option you choose, make sure to do your research before purchasing your domain name. Compare prices between different registrars and read customer reviews to ensure you get the best deal possible for your needs. Once you have chosen the right registrar for your needs, follow their instructions for registering your new domain name, and you'll be ready to start building your website in no time!
What to Do if The Domain Name is Unavailable
Coming up with the perfect domain name, it can be disheartening to discover that someone already has the one you want. With over 1.7 billion websites on the Internet, many great domain names have already been taken. If you're not willing to compromise and come up with a different name, some options are still available.
One way to find an available domain is by using resources like snapnames.com, which shows recently available domains. However, if this doesn't work for you, you may need to purchase an "aftermarket domain" from an online auction or marketplace. These domains are usually much more expensive than regular ones due to their value in terms of branding and marketing potential. So if you're dead set on a particular domain name, be prepared to pay a hefty price tag!
Choosing a Domain Name
When choosing a domain name, thinking outside the box and creating something creative is essential. The "radio test" is a great way to ensure that your domain name is easy to spell and remember. This means avoiding words with multiple spellings, such as "to" or "too," as well as numbers that could be confused for letters (e.g., three vs. three). Additionally, you should ensure that your domain name is brief and simple; otherwise, people may have difficulty remembering it.
Another factor to consider when selecting a domain name is how it will look on search engine results pages (SERPs). If your domain name contains relevant keywords, it can boost your SEO rankings and increase visibility for potential visitors. It also helps if the domain name is short and memorable so that people can quickly type it into their browser bar without having to search for it first. Ultimately, the goal is to choose a unique and catchy domain name that accurately reflects your brand and is easy to remember and type in.
Choosing a Web Hosting Provider
Choosing a web hosting provider is vital in setting up your website. There are many different types of hosting services available, so it's essential to do your research and find the one that is best for your needs. Shared hosting is an affordable option, but it may be suitable for something other than larger websites or those with high traffic. Dedicated servers offer more control and flexibility, but they are more expensive.
What is Shared Hosting?
Shared hosting is a web hosting service that allows multiple websites to be hosted on the same server. This means that all websites share the same resources, such as storage space, bandwidth, and processing power. Shared hosting is the most affordable option for small businesses and individuals just starting their websites. It's also ideal for those who only need a little customization or control over their hosting environment.
Optimize for Search Engines (SEO)
Optimizing your domain name for search engines is an integral part of increasing visibility and driving traffic to your website. When choosing a domain name, you must include relevant keywords related to your business or website. Additionally, you should avoid using hyphens or numbers. This helps search engines understand your website and make it easier for potential visitors to find you.
Final Thoughts: Cost of Domain Name
When it comes to the cost of a domain name, the answer is more complex. Generally speaking, registering a new domain should never break the bank, and prices will usually be between $10-20 a year. However, if you need an aftermarket domain, you may have to pay significantly more. Other factors can also affect your domain name's cost, such as privacy protection, domain transfer, and auto-renewal.
It is essential to consider what type of registrar you want when purchasing a domain name. Depending on your needs, there are many options available–from registering with a registrar to hosting providers or website builders that include registration in their packages. Ultimately, it is vital to research all of your options before deciding so that you can find the best deal for your particular needs.
Frequently Asked Questions
Having multiple domain names can be a great way to protect your brand and ensure that customers can find your website. It is especially beneficial for mid-to-large-sized companies with the budget to purchase multiple domains. When people try to remember your domain name, they may type in a word they associate with your business. By having multiple domains, you can redirect them all to your actual site, making it easier for customers to find you. This is an essential advantage for the business owner.
The .com domain name extension is usually the most trusted TLD when choosing which names to buy. However, there are also benefits to other extensions, such as .me, if you're setting up a personal portfolio. Ultimately, it's essential to consider what type of website you're creating and what kind of audience you're targeting when deciding which domains will best suit your needs.