Setting up a website is one thing, and generating targeted traffic for the right keywords is another. To succeed online, you need a solid website SEO strategy, for which you need a team and a suite of tools.
But here's the catch. These SEO suites can range from $10 to $100+ on monthly plans, quickly adding up to website marketing costs.
But what if you're just starting out? What if you don't have a huge budget?
Enter: Free SEO Tools
Free SEO tools are readily available for anyone getting started. Some are quite cheap, whereas others come with a freemium version.
In this list, we are sharing some of the best free SEO tools in that you can start using right away.
We have divided these tools in different categories to help you in choosing one based on your needs:
Setting up a website is one thing, and generating targeted traffic for the right keywords is another. To succeed online, you need a solid website SEO strategy, for which you need a team and a suite of tools.
But here's the catch. These SEO suites can range from $10 to $100+ on monthly plans, thereby quickly adding up to website marketing costs.
But what if you're starting out? What if you don't have a huge budget?
Content Related
Free Keyword Research Tools
Here's a list of free keyword research tools:
Answer The Public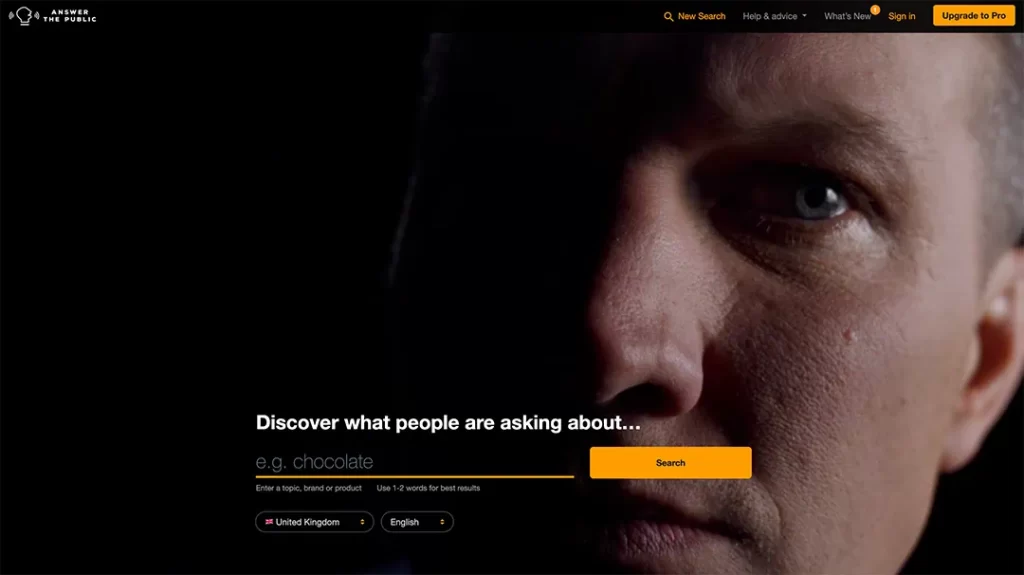 You can't go wrong with Answer the Public! When we first stumbled upon it, we were blown away by how the keywords were visually sorted out for your ease.
It pulls auto-complete search queries for each term from Google alongside the most commonly asked questions on blogs, forums, and sites like Quora.
The end result is no less than magic. We did a quick search for the term work from home and this is what we got: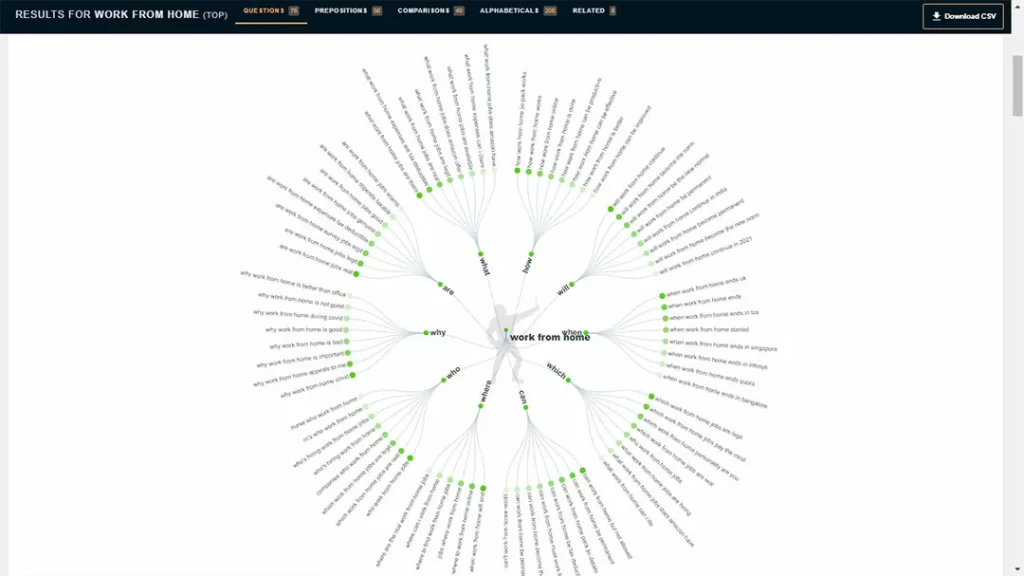 There are variations for each keyword with questions such as what, why, and how, etc. to give you a different perspective for each keyword.
Google Autocomplete suggestions
The best free SEO tool for anyone getting started! Write a keyword and get a list of auto-complete suggestions in Google. While a great point to start, save time and effort in getting data by using Answer The Public.
SEO Ngram
The SEO Ngram Tool is a free keyword tool that helps publishers understand the keywords people use and why they use them. This tool was recently updated for 2022 and was developed by Ryan Jones, Vice President at Razorfish. It allows users to better understand the keyword combinations most commonly used for searching. The tool analyzes search engine query logs to identify patterns in how people search for information online. It then provides insights into which keywords are used more frequently than others and what types of queries drive traffic to websites.
This tool can be extremely useful for content creators who want to optimize their content for search engines. By understanding the most popular keyword combinations, content creators can craft their articles around those terms and phrases to ensure they appear higher in search engine results pages (SERPs). Additionally, this tool can help identify new topics or angles that could be explored to create more engaging content that will attract more readership. Ultimately, the SEO Ngram Tool is a great resource for anyone looking to improve their website's visibility on SERPs and increase organic traffic.
Google Keyword Planner
Google's keyword research tool is integrated with Google Ads; the proprietary program webmasters use to execute PPC campaigns. The Keyword planner provides you with an estimation of each keyword's search volume for all locations alongside its CPC and competition.
You can generate hundreds of new keyword ideas with just a few seed keywords. Unfortunately, it does not provide an accurate search volume for each keyword. Rather, it displays data in ranges from 100 to 1000, 1000 to 10000, etc.
But, it's a great marketing tool for webmasters just starting their SEO campaigns.
Ahref's Keyword Generator
The legendary keyword tool by Ahref's allows you to search data on up to 100 keywords from 170+ countries. In their free version, you get keyword difficulty scores for the top 10 most-search keywords alongside the 50 most commonly asked questions.

Ahrefs Free Keyword Tools are an invaluable resource for anyone looking to optimize their website for search engine rankings. With the help of these tools, users can easily identify the most relevant keywords for their website and use them to create content that is more likely to be seen by potential customers. The tool provides top keywords with keyword volume. This makes it easier to determine which keywords are most popular among users and which ones should be used to maximize visibility on search engines.
Siteliner Tool for Duplicate Content
Siteliner is a great tool for website owners and content creators to use to ensure that their content is unique and original. It scans the entire website, looking for pages with similar content. This makes it easy to spot improvement opportunities by eliminating duplicate paragraphs across articles. By doing this, web pages can differentiate themselves from each other and make sure that Google will be able to choose which page is more relevant and make one canonical.
Using Siteliner can help website owners create better content unique to each article. Articles should feature content not shared with any other page on the site. Duplicate content that shares the same topic creates a situation where Google will have difficulty determining which page is more relevant and make one canonical. With Siteliner, users can easily identify these issues and take steps to improve their website's SEO rankings by creating unique content for each article.
Free Technical SEO Tools
Technical SEO tools allow you to study the technicalities of your website performance and its impact on SEO. Here are these:
Google Page Speed Insights
Site speed is a big ranking factor. Nobody wants to wait more than 5 seconds for a website to load. Many people will switch to your competitors if it doesn't load in less than 5 seconds!
But site speed isn't just limited to SEO. A big part of it is based on user experience (UX). When your site is slow, it hurts your rankings and conversions.
The Answer?
A FREE PageSpeed Insights Tool by Google!
You'll get a short report on your website's speed that highlights issues and opportunities.
Google Search Console
How can you talk about getting accurate data from an SEO tool and forget about Google Search Console? Previously known as the Google Webmasters, it allows you to study your website's performance and issues in Google Search.
What we love is the simplicity and versatility of this tool. You can submit sitemaps, fix technical errors, understand clicks, and CTRs, and check on other performance metrics of your website.

Screaming Frog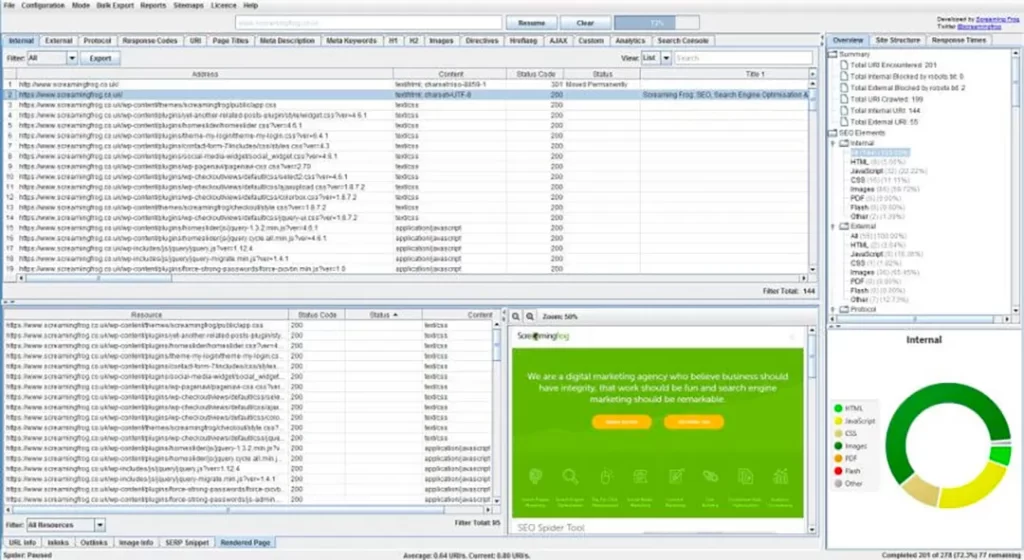 A fast, excellent, and amazing SEO tool allows you to analyze and audit technical site issues, including backlinks.
As your site grows, it becomes impossible to check issues with each link manually.
With the ability to crawl up to 500 URLs in its free version, you get a complete report on issues with each link such as HTTP header errors, and crawl errors.
Free DNS Propagation Check
The DNS Propagation Checker Tool is an invaluable free website technical audit tool. It identifies issues with server settings that may prevent Google from reaching a website. This tool works by checking how well a website is resolving worldwide and can quickly surface any problems that could be causing indexing issues.
I have personally used this tool to great success in the past. After running a check, I could pinpoint why Google's crawler could not reach my website, which had been causing major indexing issues. The cause turned out to be a bad server setting, which I was then able to fix quickly and easily, thanks to this helpful tool. Overall, the DNS Propagation Checker Tool is an incredibly useful free website technical audit tool that can save you time and money in the long run.
Free Link Building (Manual PR and Outreach) Tools
We get it. It's a pain in the neck to develop manual backlinks. Finding out and reaching the right webmasters takes up a lot of time and effort. Developing backlinks takes a great deal of patience, which is still an important ranking factor today.
Luckily, some tools allow you to optimize the entire process and save up on time.
Here is a list of free SEO link-building and outreach tools:
ContactOut
ContactOut is a comprehensive email finder that provides users with access to detailed contact information from LinkedIn profiles. Its Chrome extension seamlessly integrates with LinkedIn, allowing users to quickly access email addresses without leaving the platform.
With ContactOut, users can quickly and easily search for emails, phone numbers, and other useful contact data from any LinkedIn profile. ContactOut has been designed with advanced algorithms to help users uncover reliable and accurate contact information in just seconds. ContactOut offers a search portal where users can refine their search by industry or job title, helping them hone in on the exact contacts they need faster and more accurately.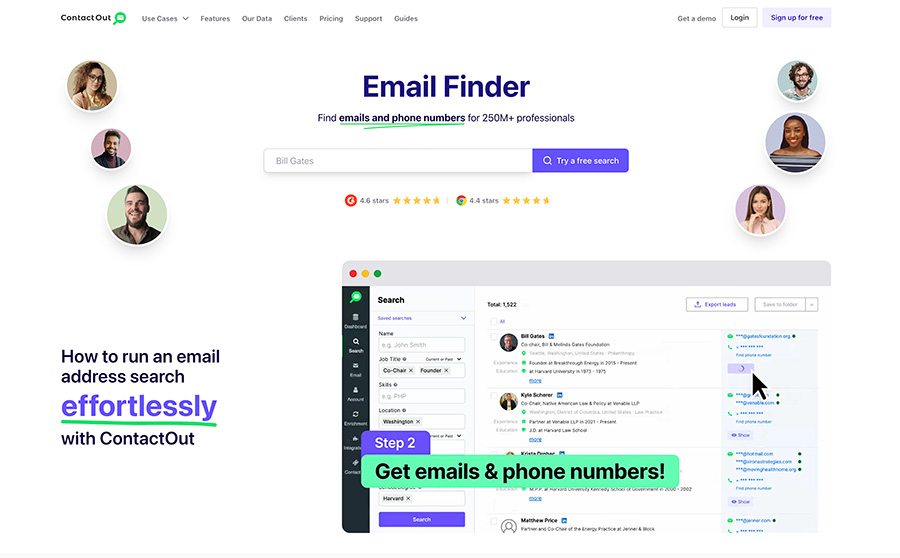 Whether you're looking to expand your professional network, reach out to potential leads, or recruit top talent, ContactOut is an indispensable tool for anyone looking to maximize their outreach efforts.
Voila Norbert
Voila Norbert is an email finder. It is majorly utilized by people in sales, marketing, PR, and recruitment to find and reach the right contacts. The tool has a tremendous 98% success rate, so finding the wrong email address would be rare.
Besides finding email addresses, Voila Norbert can also help verify your email lists. A verified email list makes sure you have a healthy sender score. Norbert makes sure every email you send reaches a real person. That is a direct positive impact on deliverability, open rates, and your overall campaign performance.
Regarding guest post outreach, there are higher chances you'll end up wasting your efforts on a non-existing email address. Norbert can be a handy tool to ensure you're moving in the right direction.
Hunter
You can't use a shotgun approach in your outreach campaigns. Instead, you have to be laser-focused on reaching the right person to talk to.
Hunter allows you to search for the right email address of the concerned person in an organization. You can perform searches on up to 50 emails each month for free.
Instead of searching on Google, Quora and other blogs for the right email address, let Hunter save up hours of your time by automating the process.
It does this by searching for the most common pattern of an email in any domain. We did a small test for Walmart.com and found the email addresses with a 94% confidence rate.
It also provides a link to each email source for further verification.
Streak
A free Gmail extension that allows you to track email open rates, which you can use as an email marketing performance metric.
You need to know how often your emails were opened for any outreach campaign. Streak is a fantastic nifty tool that can come in handy during your email marketing efforts.